Charlotte's Precision Laser Engraving And Plasma Cutting
We offer CAD services, CNC machining, laser cutting and engraving including 3D. Although we are headquartered in Charlotte, NC, we are able to offer services country-wide.
While our experience goes back 15 years; we pride ourselves on working one on one to discuss what your needs are.
Our background is from the ground up – from the racing industry (NASCAR & NHRA) to aerospace.
Since MINT Machining is family owned and operated you can be sure you will have our undivided attention. Give us a call!  (440) 479-9074 or email us at Tom@mintmachining.com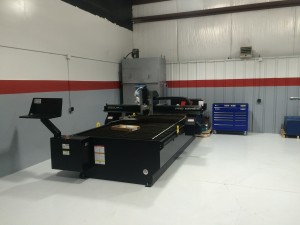 MINT Machining provides quality precision machining services by being able to hold tight tolerances on a laser machine with multiple laser styles. We have introduced our new Plasma Cutter to help accommodate your needs from "an idea" all the way through to the final product. We are able to machine lower runs to ensure higher quality (including prototypes), or sustain the expectations through 10,000 piece runs.
MINT Machining uses computer controlled laser engraving, laser cutting and laser marking systems. Our laser processing systems transform images or drawings from your computer screen into real items made out of an amazing variety of materials…wood, plastic, tile, fabric, paper, glass, leather, stone, ceramic, rubber and many more. We can also mark bare metals without the use of chemicals. We have invested in two laser sources to provide high quality marks with high precision.
Let's explore the process a bit to see how a laser works, and discuss some general terms.
Laser Cutting:
The laser beam cuts completely through material along the designated path, creating polished, high quality edges.
Laser Engraving:
The laser beam vaporizes material to a user-controlled depth, creating a flat surface with a high quality finish.
Laser Marking:
The laser beam modifies the material surface, creating permanent marks without removing material or impacting surface integrity.
Laser engraving and laser marking, is the practice of using lasers to engrave an object. Laser marking, on the other hand, is a broader category of methods to leave marks on an object, which also includes color change due to chemical/molecular alteration, charring, foaming, melting, ablation, and more. The technique does not involve the use of inks, nor does it involve tool bits which contact the engraving surface. These properties distinguish laser engraving from alternative engraving or marking technologies where inks are not permanent.
The point where the laser touches the surface is the focal point. This point is typically small, perhaps less than a fraction of a millimeter (depending on the optical wavelength). Only the area inside this focal point is significantly affected when the laser beam passes over the surface. The energy delivered by the laser changes the surface of the material under the focal point. It may heat up the surface and subsequently vaporize the material, or perhaps the material may fracture and flake off the surface. Cutting through the paint of a metal part is generally how material is laser engraved.
A laser can remove material very efficiently because the laser beam can be designed to deliver energy to the surface in a manner which converts a high percentage of the light energy into heat. The beam is highly focused and collimated. However, because of this efficiency, the equipment used in laser engraving may heat up rather quickly. Elaborate cooling systems are required for the laser. Alternatively, the laser beam may be pulsed to decrease the amount of excessive heating.
At MINT Machining we pride ourselves on being able to provide our customers with marking solutions to meet their needs. Please contact us for more details or to run some tests on your material with your image, logo, serial number, or saying.
Please contact us at (440) 479-9074 or Tom@mintmachining.com for more information.